What is a BER? 
BER stands for Building Energy Rating, and this is the rating or grade of a particular building's energy efficiency. This is impacted by a variety of factors, such as the heating system in use and how well insulated it might be. You might have seen such a grading system on a home appliance at the time of purchase, like this one: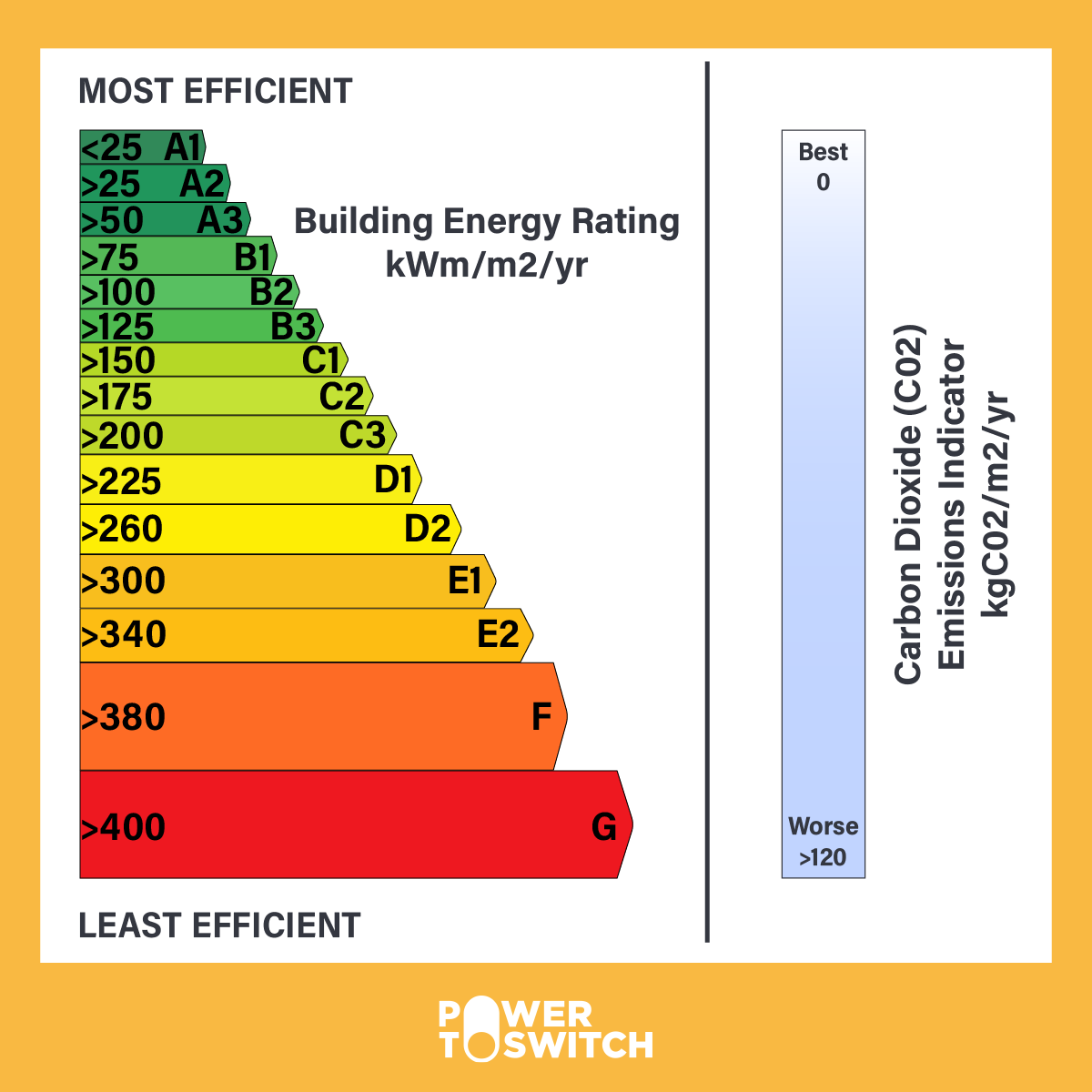 As you can see, the grading, score or, as we will continue to refer to it, energy rating is marked from A to G. The same idea applies here as it does in our educational system: an A is the best, or most efficient score, while the G denotes a poor energy efficiency.
When it comes to BER, the buildings with a better rating (that is, closer to A than G) are cheaper to heat and run, as they will simply use less energy to achieve similar results. 
How is a BER calculated
? 
A BER is calculated by the energy performance and consequential carbon dioxide emissions for the supply of space heating, water heating, lighting and ventilation in a building. 
This means the following may be taken into account:
Type of building

Number of rooms

Number of floors 

Type of glazing

Material used to build in the property

Wall insulation

Roof construction 

Number of chimneys

Fuel type
Be aware this assessment excludes devices and appliances, which may have individual efficiency ratings. The basis of the BER is that it is a more generalised look at the efficiency of a home rather than the unique behaviours of those living in it.
For example, a young family may live in a home with old, inefficient appliances, leave lights on through the night and use more electrical devices for entertainment, such as video games and the television. The BER of this property will be the same for them, as it will be if they sell their home to an older couple who upgrade the appliances and spend most of their time away from the home. Obviously, the family would have had higher energy bills as their consumption was higher than the hypothetical couple, but the BER would have been unchanged.
In short: the BER is unique to the property and its electric and heating features, rather than the property owners' appliances and behaviour. 
How do I find out my property's BER?
You should have been provided with a BER certificate after the purchase or build of your home, as per building regulations in Ireland.
However, if you have misplaced your certificate or are unsure if you were ever provided with one, you can check online. Simply search the SEAI National BER Register with your MPRN (this is the number found at top of your electricity bill) and from here you should be able to discover both whether you have a valid BER and what that rating is.
Your BER is valid for up to 10 years, unless there are significant changes made to the home which could impact its efficiency. Unbuilt homes can receive a provisional BER and these are valid for just 2 years.
I don't have a BER – how do I get one?
If you don't have a BER, that's fine. Getting an assessment is reasonably straightforward. 
The assessment will be carried out by a BER assessor registered with the Sustainable Energy Authority of Ireland (SEAI) who will visit your home to evaluate various factors of your home. You can find registered assessors in your area with this handy tool from the SEAI. 
The SEAI recommends requesting quotations and timelines from 3 different assessors before making your final decision. 
From here, you should gather helpful information for your assessment. This includes:
MPRN number

Documents about the house's history e.g. when it was built, original drawings

Documents from any works done on the house 

Certificate information on your doors and windows

Certificate information on heating systems e.g. boiler

Details of a previous BER assessment 
If you don't have any of the above pieces of information, speak to your assessor before they arrive.
Once your assessor schedules a time for their visit, simply make sure that your home is easy to navigate and that they will be able to reach all areas of your home, including:
Doors

Windows

Attic (if applicable) 

Hot press

Meter cupboards
For the likes of a three-bed detached, this process will take roughly an hour, but will undoubtedly vary depending on your home size.
After the assessment, you will receive an advisory report, which will recommend energy saving improvements for the home.
How can you improve your BER?
The first step to improvement is the assessment. Once this is complete, you can read in your advisory report such possible recommendations as: 
Better insulation in your wall or attic space

Upgraded doors 

Upgraded window glazing

Installing a chimney balloon to cut back drafts
All of these recommendations are based on the aim of reducing heat loss through insulation, glazing and other means, and swapping out energy-draining heating and lighting systems in favour of those which have been created to work just as well but with less energy and therefore cost.
All of these recommendations will be tailored to your home's specific needs and requirements.
What are the advantages of improving my BER?
The quick answer is that it will reduce the amount you spend on your energy bills. A more efficient home is simply cheaper to both heat and run.

However, there are many benefits to a home with a better BER:
It can result in an increase in resale value, which can help you down the line if you ever plan on selling your home

Energy efficiency is key to sustainability and the reduction of pollution. Put simply, the less energy you have to use, the better the planet's health will be.

Some mortgage providers may provide a slight discount on rates if you home has a high BER rating

You can trust your home to heat up quickly and actually stay warm, too.
How do I pay for these improvements? Are there grants?
There are grants available for those who have been recommended various energy saving tactics through their BER assessment.
The SEAI have information on a wide range of grants, such as the solar energy grant, which is offered on a per-panel system, and insulation grant, which offers up to €6000 depending on requirements. 
We even have a list of grants on the Power to Switch website to make things easier.
In conclusion 
Getting a BER assessment and making improvements to your home's efficiency has many benefits, namely on the price of your energy bills.

If you already have a positive BER, you might consider other ways in which you might save on your energy bills such as updating appliances for more efficient versions, turning off lights when you don't need them, and cutting the time in a hot shower.

You might also consider switching your energy deal. With Power To Switch you can compare different energy tariffs for your location and requirements, and switch to a cheaper deal with just a few clicks. 
For switching, find out more here.