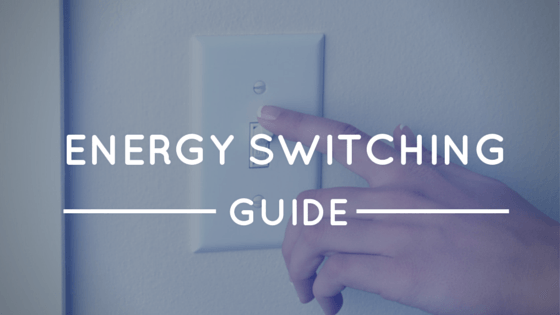 Why Switch…
Although it may seem confusing comparing energy tariffs and switching is straightforward, especially if you use Power to Switch. By switching energy supplier you could
save money by moving to a better deal or tariff
get better customer service
or get additional services and products not offered by your existing supplier.
Switching is hassle free – you can switch regardless if you own your own home or rent and you can switch as many times as you like (although some fixed term deals may have an exit fee if you leave the contract early).
Power to Switch has information on all available tariffs, charges as well as discounts, incentives, payment and billing options – this makes choosing the best deal easy.
Remember its not always about the cheapest deal but the best deal for you. 
What won't happen when you switch…
There will be no interruption to your supply because you switch. There will be no changes to your meter, your wiring, your pipe work or connection. Changing your electricity or gas supplier will not affect the safety or reliability of your electricity or gas supply or how quickly your power is restored if there is a power cut.
 What will happen when you switch
The process of switching energy suppliers is very straightforward. It involves the following simple steps.
1. Power to Switch will provide you with details of all the the deals available based on your specific use – all you have to do is decide which energy supplier, price and tariff suits you best. A summary of all the information you need is provided in the results along with any introductory offers and additional services.
2. Once you have decided which tariff, payment method and energy supplier provides the best deal for you, simply click on the 'Complete Switch' option to complete the switching form. This collects some further information to allow Power to Switch to initiate the switch with your new supplier.
3. Your new energy supplier will contact you shortly after your application to confirm the details and commence the switching process.
There is no need for you to contact your existing gas or electricity supplier. Your new energy supplier will contact your existing energy supplier to arrange the transfer of your gas or electricity supply. The only change you will see is that your gas and electricity bill will come from a different energy supplier.
4. After agreeing to switch gas or electricity supplier you have ten working days 'cooling off' period in which you can cancel the switch if you change your mind for any reason.
How are you protected
Cooling off Period
Once you have confirmed a switch to a new supplier you have ten working days 'cooling off' period in which you can cancel the switch if you change your mind. The new supplier cannot finalise the switch until this cooling period has passed.
Codes of Practice
Energy suppliers must have Codes of Practice in place. These let customers know what levels of service they can expect and how to make a complaint. The codes will be available on the respective company's websites or you can request a copy directly from the companies.
Guaranteed Standards of Service
Energy companies have guaranteed standards of service. These standards let customers know how companies should perform in the event of a complaint or network problems and include payments to customers should they fail to meet them.
Support for Customers – Critical Care Registers
If you have a disability, are a pensioner or are chronically sick, electricity companies can provide additional assistance to customers who register their details with them. These services include bills in different formats such as large print or Braille and password schemes to help identify representatives from a service provider.
Why use Power to Switch to switch!
Power to Switch is a free, impartial and independent service helping you find a better energy deal. We want to give you more control over your energy choices, help make sense of all the deals and offers, and help you switch if you want.
We are free, impartial and completely independent
Power to Switch is all about helping consumers. It has been developed by the previous Chief Executive of the Consumer Council for Northern Ireland.
We compare all tariffs and suppliers for gas and electricity
We are the only site to help you compare 'oil to gas' or how much to save with a new oil boiler
We can keep you informed of new deals and savings – so you never miss a better deal
We want people to become informed and active. More people switching and searching out better deals will make energy companies work harder to keep prices down, improve services and bring in new features.